Stormwater Leader Drain Services "Near Me" provided by All A's Plumbing & Heating in Randolph, New Jersey
Are you dealing with a clogged or damaged rain leader on your New Jersey property? Look no further than All A's Plumbing & Heating for professional stormwater leader drain solutions. As a full-service Randolph, New Jersey, plumbing company, we offer comprehensive repair, replacement, and maintenance services to restore proper drainage and prevent future blockages.
As a family-owned business with decades of experience, our team has the expertise to tackle any commercial or residential rain leader issue.

Clogged Leaders Cause Problems
When debris builds up and your leaders become clogged, water can back up and cause interior and exterior damage. Signs of a clogged rain leader include:
Water pooling around the foundation
Leaks inside walls, ceilings, or basements
Overflowing gutters
Standing puddles long after rainfall
Never take your time with major stormwater drainage issues on your hands. Schedule leader cleaning from All A's Plumbing and Heating at the first sign of blockage. Our techs use powerful jets to clear leaves, sticks, moss, and other debris. We also check your entire drainage system for proper functionality. Preventative cleaning extends the life of your rain leaders and helps avoid damage.

Repairing or Replacing Defective Leaders
If your commercial or residential rain leaders are damaged or improperly installed, we offer complete repair and replacement services. Common problems with faulty leaders include:
Rusting and corrosion
Punctures or cracks
Disconnected joints
Improper slope/drainage
Our technicians will thoroughly inspect your leaders and determine the best solution, whether patchwork repairs or complete system replacement. We'll make sure the job is done right with proper materials, slope, seamless connections, and drainage. You'll have peace of mind knowing your system will funnel stormwater safely away from your New Jersey property's foundation.

Custom Solutions for Commercial Properties
Ewww.. Does your commercial stormwater leader drain look like this picture?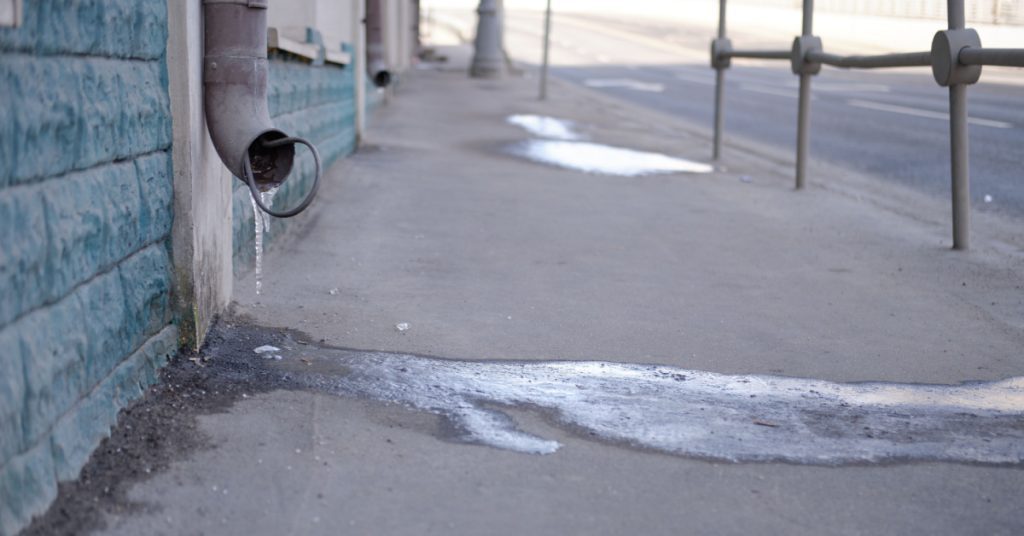 Business owners can count on All A's Plumbing & Heating for specialized commercial rain leader care in Randolph and surrounding areas. We understand the different drainage needs of commercial buildings, and customized solutions may be required. With extensive experience across many industries, our crew is prepared to tackle any commercial job. We're your one-stop provider for services like:
Roof drain cleaning, repair, and replacement
Underground drainage system maintenance
Parking lot drain repairs
Catch basin cleaning
Commercial gutter cleaning and installation
Trench drain repairs and replacements
Kitchen grease trap cleaning and maintenance

Trust All A's Plumbing & Heating for Stormwater Leader Drain Services
Don't wait for your rain leaders and drains to fail. With preventative cleaning and timely repairs from our Randolph, New Jersey company, you can avoid expensive property damage while keeping your home or business safe from stormwater flooding.
Contact All A's Plumbing and Heating today to schedule reliable and affordable stormwater leader drain services.