Water Line Service & Replacement
Need A Water Line Repaired or Replaced?
The homeowner's responsibility is to the water line or pipe from the street to your house. If you have a well on your property, you are responsible for everything. Water lines last for many years, depending on the material used. Many old water lines are cast iron and can last 70-100 years. Brass will last 40-70 years, and galvanized steel 20-50 years. The lead pipes will last 100 years or more and PVC will last indefinite.
It would be best to have an evaluation done by a professional plumber with the right equipment. We will use cameras to determine where the crack, break or complete deterioration of the pipe is. If we determine that only a repair is needed, you will save a considerable amount of money. Should the entire line need to be replaced, we have our excavation equipment to complete the job as quickly as possible.
Many plumbers do not have their own excavation equipment and need to rent it or call someone else to do the excavation. Our professional staff will excavate and make sure we dig at the very minimum, saving our client's money and trying not to disturb too much of the landscape.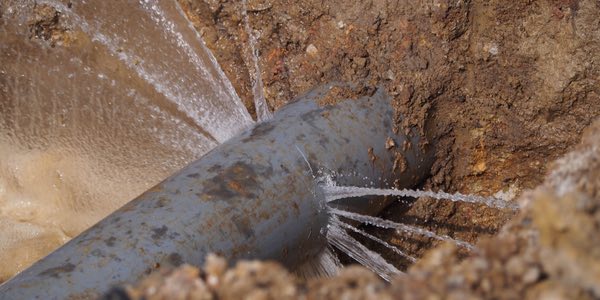 Things That Need To Be Considered:
Insurance – You should contact your insurance to determine if your policy covers this type of repair. Most insurance coverage for homeowners does not cover this repair.
Costs to Repair – This all depends on the break and whether you need to replace the entire pipe or just a section of the pipe. It also determines the access to the line for excavation.
Water Line/Main Replacement
Signs your water line needs to be repaired or replaced
 Water bill is exceptionally high – If you should have a very sudden increase in your water bill and you know that you have not used an excess of water.
Experience a decrease in water pressure – You notice that your water pressure has decreased significantly. This is a good indication that you have a leak somewhere.
Puddles in the yard – You notice that your yard is very soggy, or you can visually see puddles forming in certain areas.
Contact All A's Plumbing for main water line repair and replacement. We replace the main water line from meter to house. Our cost is affordable, service is impeccable. Click on our contact form to get in touch.
PAYMENTS AS LOW AS $152.77/mo & (0% Interest)
Find out your rate and payment in a matter of minutes. Just fill out the form below and find out now!
For All of Your EMERGENCY SERVICE Plumbing Needs, Contact Us
QUICK AND RELIABLE 
*
SERVING YOU PEACE OF MIND