Most people do not understand how radiant heat works. Radiant heating systems supply heat directly to the flooring above. Therefore, people often refer to radiant heat as flooring heating. There are many advantages to radiant heat, the most apparent being efficiency. Radiant heating is significantly more efficient than baseboard heating and even more efficient than forced hot air systems because you eliminate the duct losses.
People who suffer from allergies opt for radiant heat because it does not distribute allergens like forced hot air systems. There are (3) types of radiant floor systems:
Air Heated Radiant Floor Heat – These systems are not cost-effective because air cannot hold large amounts of heat. These systems are often combined with solar heating systems but can only produce heat during daylight hours.
Electric Radiant Floor Heat – These are simply electric heating cables that are built into the floor. Air-heated systems are usually installed under small floors and mainly over a concrete mass for thermal efficiency. Electric Radiant Heated Floors are mainly used in home additions where it is impractical to extend the heating system into a new space. A more efficient option would be a mini-split heat pump.
Hydronic Radiant Floor Heat – The most popular and cost-effective system. These systems pump heated water through tubing underneath the floor surface. The heat is produced from the boiler. You can use zone valves to control the heat in each room of the home, making it very efficient.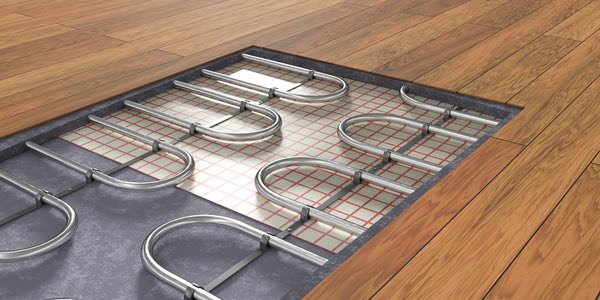 Low-cost energy efficiency
Allergy-free heat
No noise
Warm floors and warm feet
Works under many different types of floors
Why Choose Radiant Heating:
Radiant is quiet clean heat. You do not hear any noises with this form of heat.
Radiant Hydronic is the most energy-efficient heat on the market today.
Eliminates allergens in the air if you suffer from allergies.
Provides consistent temperature throughout the home with no cold areas.
Less Arid than other heat. Does not pull the humidity out of the air and creates dry conditions like other heating systems.
No ductwork needed – Installed below the surface of the floor, so you do not see any unsightly heating registers and returns in the walls of your home.
Aesthetically pleasing – This is the heat that you only feel. You do not see or hear it. It provides the ultimate warming feeling to any home.
No unsightly ductwork to run throughout the home
No more cold feet – Provides an even flow of heat radiating from the floor.
Contact All A's Plumbing to discuss your heating needs and which type of heating is best for you.  Click on our contact form to get in touch.
For All of Your EMERGENCY SERVICE Plumbing Needs, Contact Us
QUICK AND RELIABLE 
*
SERVING YOU PEACE OF MIND