Rockaway NJ Plumbers You Can Count On
Uh, oh. You've just spotted a water leak under the sink, and you know what that means: you'll need to call a plumber. Finding the right Rockaway NJ plumbers to take care of your needs is a necessary move to take care of the leak or any other plumbing issues before they cause major damage and become costly to fix. However, choosing the wrong plumber could cause more problems for you than you started with.
Choosing the right Rockaway, NJ plumbing contractors means selecting one that checks off all of the right boxes, including one that's close to home, easy on the wallet, and most importantly, does the job to the highest standards possible. That being said, the plumbers at All A's Plumbing & Heating are the best choice for you to get the job done.
Read on to find out how they fit the criteria of what makes a great plumber for your plumbing needs!
All A's Plumbing Are the Rockaway, NJ Plumbing Contractors You Need
If you're looking for a plumber who services Rockaway NJ with professional experience, then All A's is the right one to call. We've been a family-owned and operated business in the northern, New Jersey area for over 20 years, and we know what it means to take care of our clients in this area.
We specialize in both residential and commercial plumbing services, so we know how to take care of all of our customer's needs. To top things off, we have a dedicated approach to pursuing superior quality and professional workmanship in everything we do, making sure the job is done right the first time.
We Offer a Wide Range of Plumbing Services
Many plumbers offer a limited amount of services, therefore their customers become stranded when something more complex comes along and they cannot fix it. This is a hassle that no one should have to deal with.
At All A's Plumbing, we offer a wide range of plumbing services, including toilet and faucet repairs, gas appliance hookups, pool heater & generator installations, sump pump installations & repairs, injector pit installations, and much more. There isn't a plumbing problem we can't handle.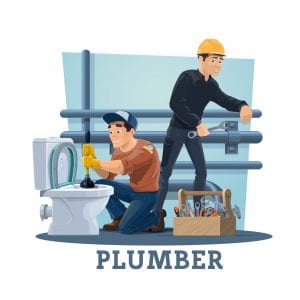 Always Ready to Work
As a long-standing professional plumbing company, we make sure we only put our best foot forward, and we do it all of the time. We not only install plumbing products, but we also do maintenance and repair services to make sure what we install continues to stay up to our standards.
Building at a new location? All A's also specializes in new construction plumbing services to make sure your residential home or commercial building is ready to use right after completion, as well as repairs on plumbing units in rehabilitated areas.
We are also aware that an unexpected plumbing issue can happen at any time, which is why we're ready to help you the moment the problem arises with our 24/7 plumbing assistance. Our customers consider us the best Rockaway NJ plumbers to handle emergency plumbing needs!
Here When You Need Us
Now that you know what to expect from professional plumbing services, you need to hire the right Rockaway, NJ plumbing contractors to help you take care of your needs. Look no further than All A's Plumbing for your services.
Our company prides itself on offering only the best professional services for our patrons, and we do it all for an incredible price that suits your wallet. We cover all areas of plumbing and maintenance services, and we always offer our services 24 hours a day, seven days a week, so don't hesitate to call on us whenever you need our help. We look forward to taking care of your plumbing needs!
Our office is located in Randolph, NJ so we are only 5.6 miles away from Rockaway, NJ. We would like to be your Rockaway NJ Plumbers of choice.