Have you ever had the water in your home tested? There could be dangerous particles in your water supply. A water filtration system is the best way to provide your home with cleaner, healthier, and better-tasting water. Here are some frequently asked questions about whole house water filtration systems
1. How does a whole house water filtration system operate?
A whole house water filtration system is connected to your household incoming water supply and is part of your overall water system. All drinking, cooking, washing, or bathing water will go through the main filtration system. Installing a primary filter eliminates the need for a filter on every faucet in your house.
2. What are the different types of whole house water filtration systems?
The two best water filtration systems are activated carbon systems and reverse osmosis systems. Activated carbon systems remove disinfectants and harsh chemicals. Reverse osmosis systems combat chemical and microbial contaminants.
3. What chemicals will a whole house water filter remove?
Harmful contaminants will be removed from your home's water supply. These contaminants may include heavy metals, such as lead, copper, and mercury, as well as radon, arsenic, pesticides, bacteria, parasites, chlorine, rust, and other volatile organic compounds. Once your filter is installed, you will also notice an improvement in your water's taste and odor.
4. What are the other advantages?
Dangerous chlorine and chlorine vapors are filtered out. When you use the shower or use the dishwasher, the inhalation of chlorine vapors can be more hazardous than consuming chlorine in your drinking water. This is particularly true for asthmatics and allergy sufferers. Your home drinking-water filtration system will also remove iron, which can stain laundry and cause rust to your plumbing fixtures. Washing clothing in filtered water helps avoid exposure to contaminants that can cause numerous skin rashes.
5. Who needs a whole house water filter system?
It is recommended to use a whole house water filtration system depending on where you reside. Also, water quality can vary greatly, depending on the source of your water supply.
If you use well water as your main water supply, please consult the Environmental Protection Agency guidelines for well water safety. A Triple-Stage Whole House Water Filtration System is recommended in conjunction with well water sources.
6. How much does a standard whole house water filtration system cost?
Installations typically cost between $1,500 to $2,000. Installing any water system is not a simple procedure and should only be performed by a licensed professional. After the system is installed, maintenance is minimal and only involves simple filter replacement.
7. How long does it take to install a whole house water filtration system?
Whole house water filtration systems can usually be installed within an hour, with minimal inconvenience to the household.
For assistance with your whole-house water or home-drinking water filtration system, please contact: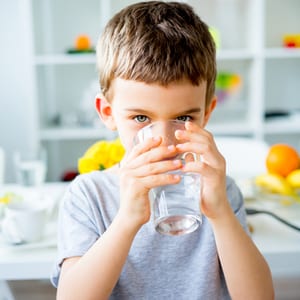 All A's Plumbing & Heating
1152 Route 10 West
Randolph, NJ 07869
Mon – Fri 8.00 – 5.00
24 Hour Emergency Service
973-252-6233